Want to help us spread our message? Take matters into your own hands by helping us distribute our materials! We have a variety of flyer, poster, and sticker designs available for supporters to use. Here's how:
Print out our flyers to pass out, put up on public bulletin boards, or leave in sympathetic businesses and venues.
Create your own stickers with our designs and put them up in busy areas or restrooms, or use them to cover fascist propaganda.
Print out our posters and put them up in the streets with tape or wheat paste.
You can find a guide to creating your own stickers here, and a trusty wheat paste recipe here.
If you'd like, you can send us photos of anti-fascist stickers and posters that have gone up! Make sure to practice good security culture- don't take credit for illegal actions in person or online. You can scrub metadata from photos here.
Poster/Flyer Designs: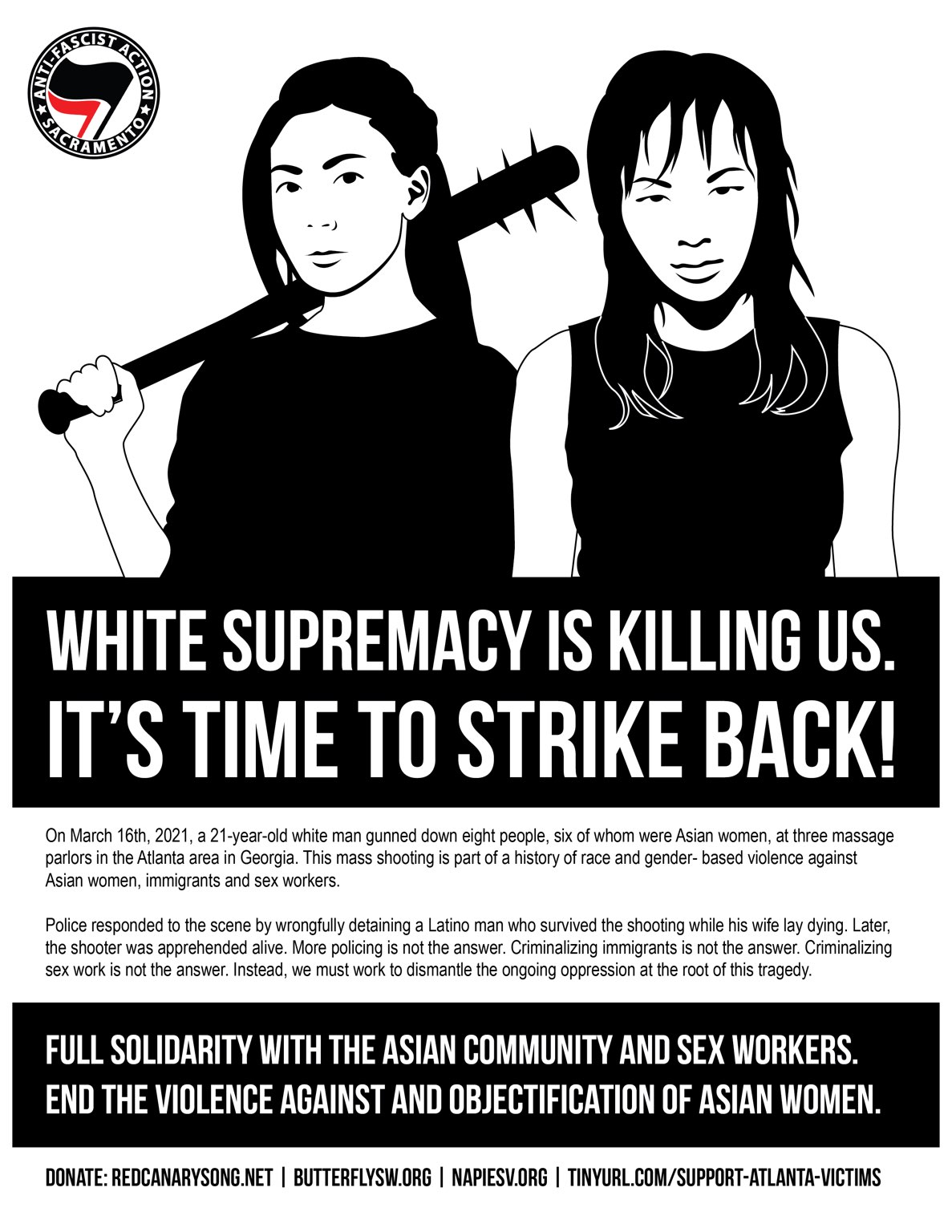 Join us in getting this poster up! In solidarity with the Asian community , sex workers, against racism and with a push to end white supremacy! Up on community bulletin boards, light posts, electric boxes! Let's get it up all over!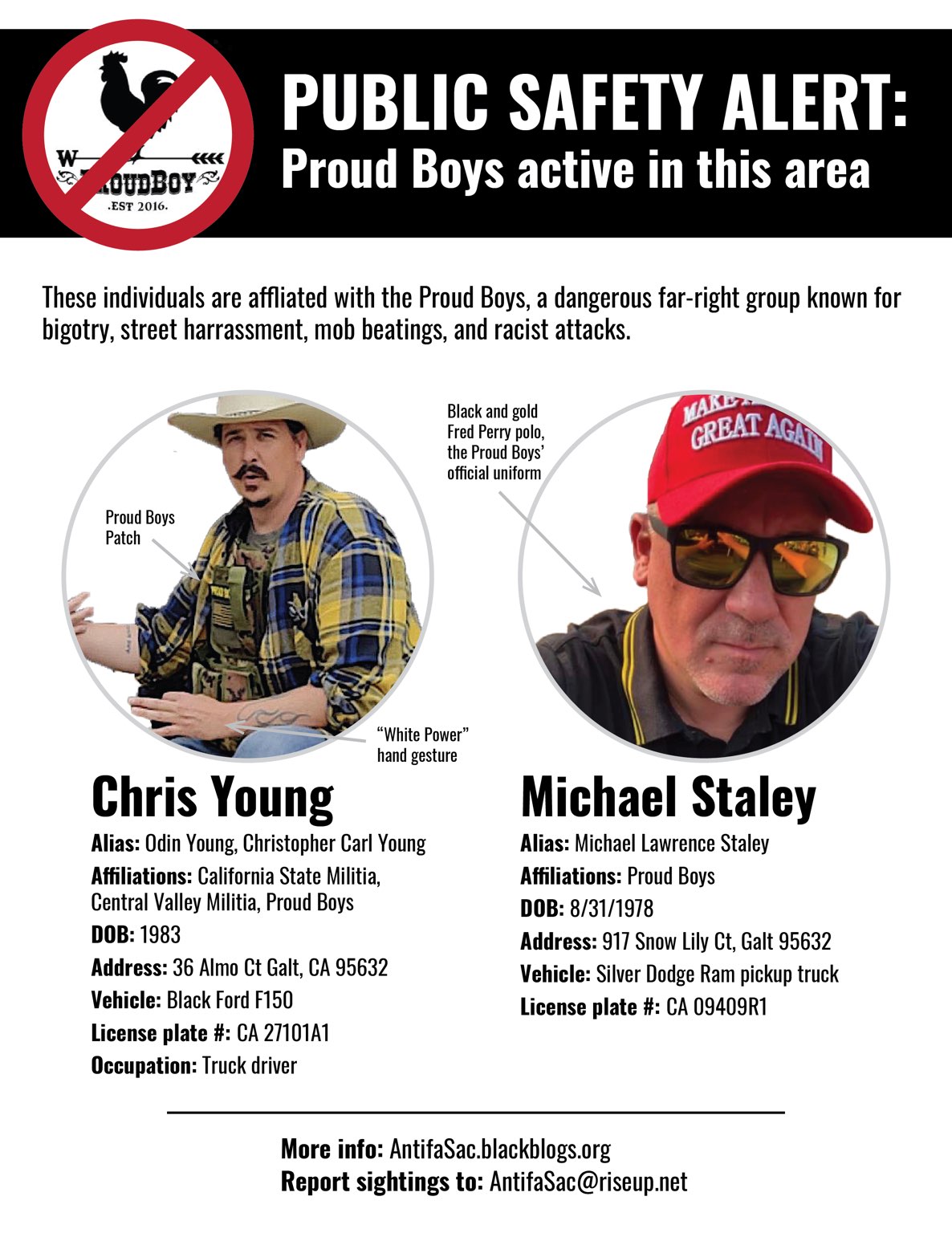 We'll be putting this poster up in Galt and in the surrounding area so people know exactly who to watch out for! Here's more on Christopher Young & Michael Staley ! Print the poster off, crew up , stay safe and join us in continuing to expose these two Proud Boys from Galt, CA ! The more these go up the better off we all are!
These posters will be going up all over the Sacramento area! Along with the rest of the community we'll be making a strong push for J20 Stop The Fascist Creep – All Out For Sacramento! Print these off, post them up & join us in helping to spread the word!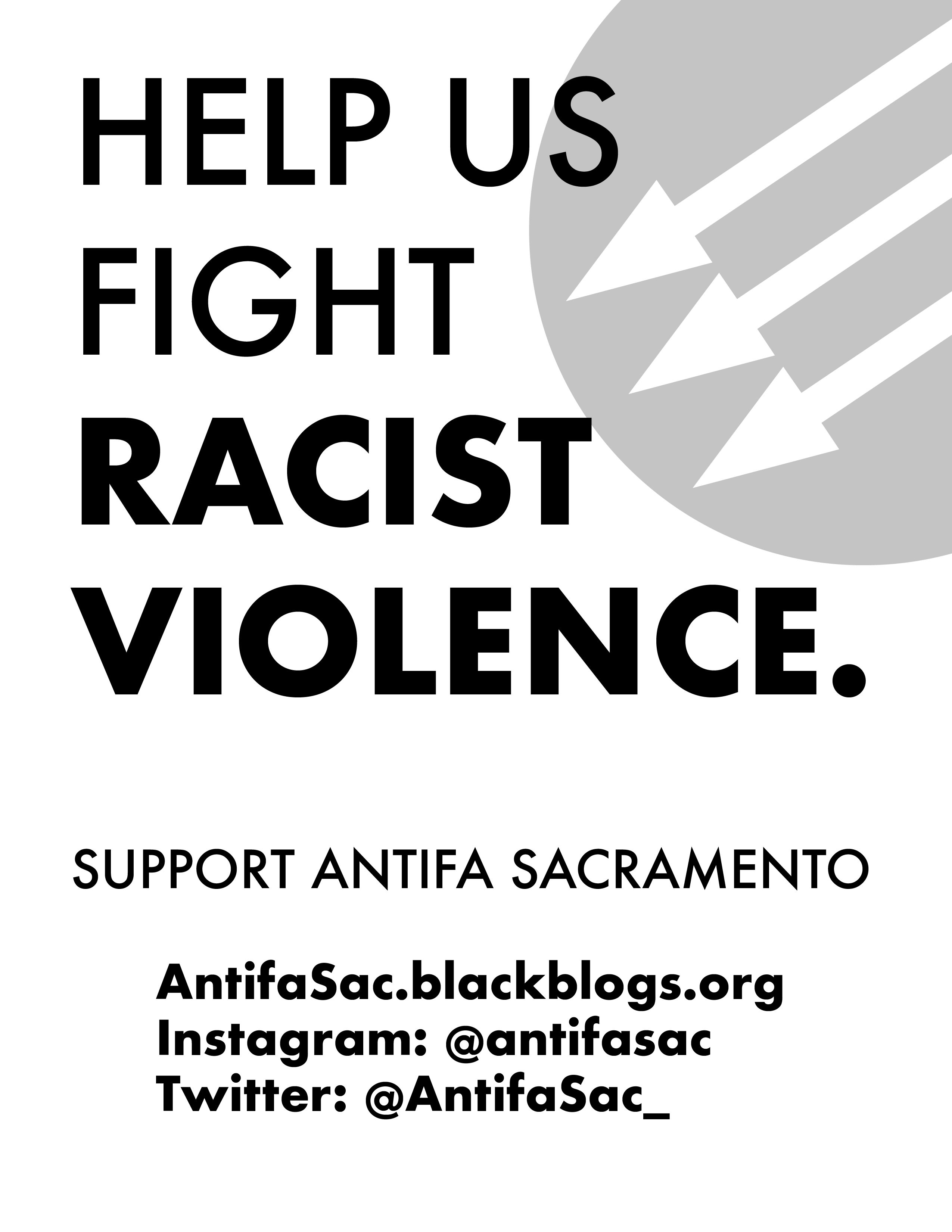 Meant to be used as a quarter sheet flyer. Been put up on community bulletin boards at high schools, colleges, and poles & boxes in the Sacramento area in the past. Putting these up in Sac and all over nor cal is so appreciated!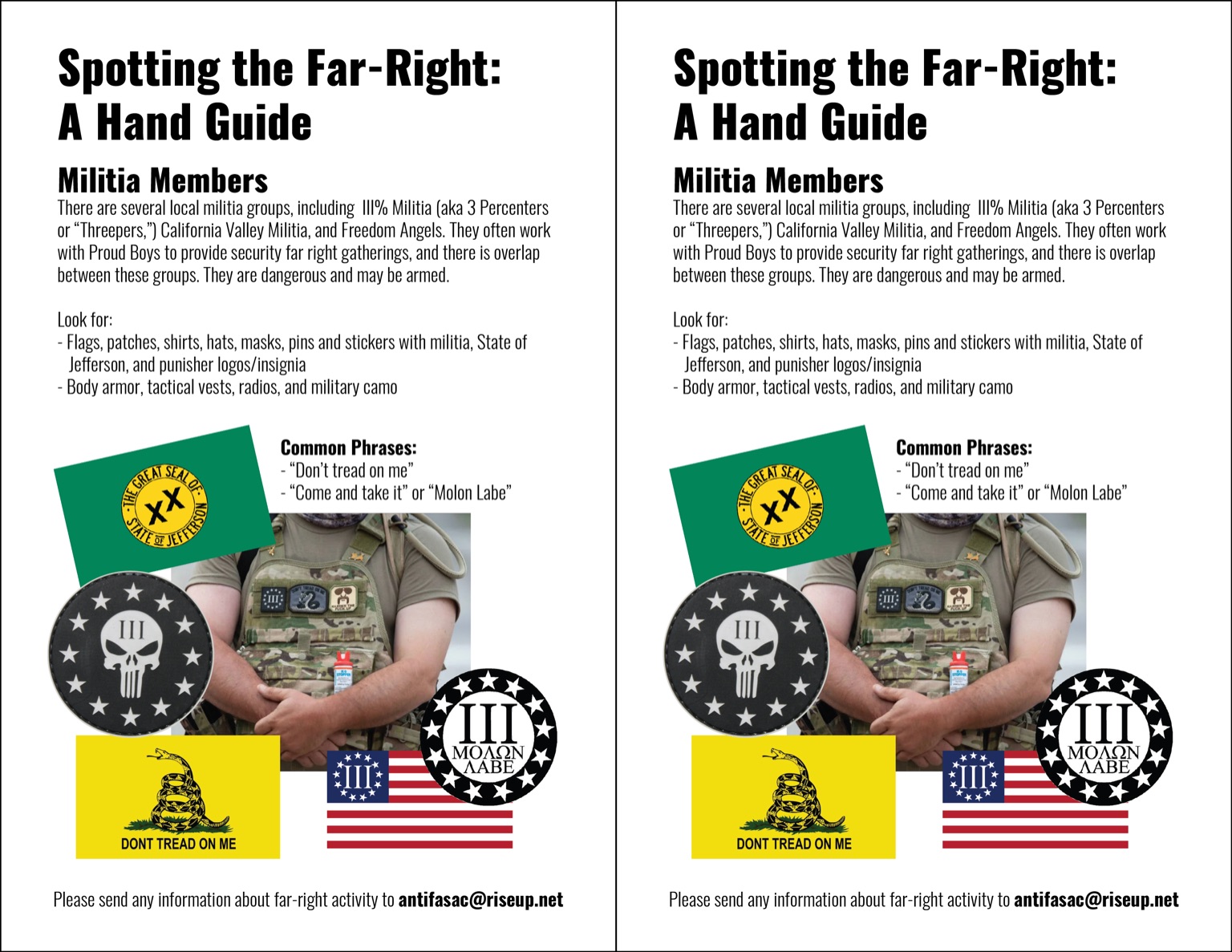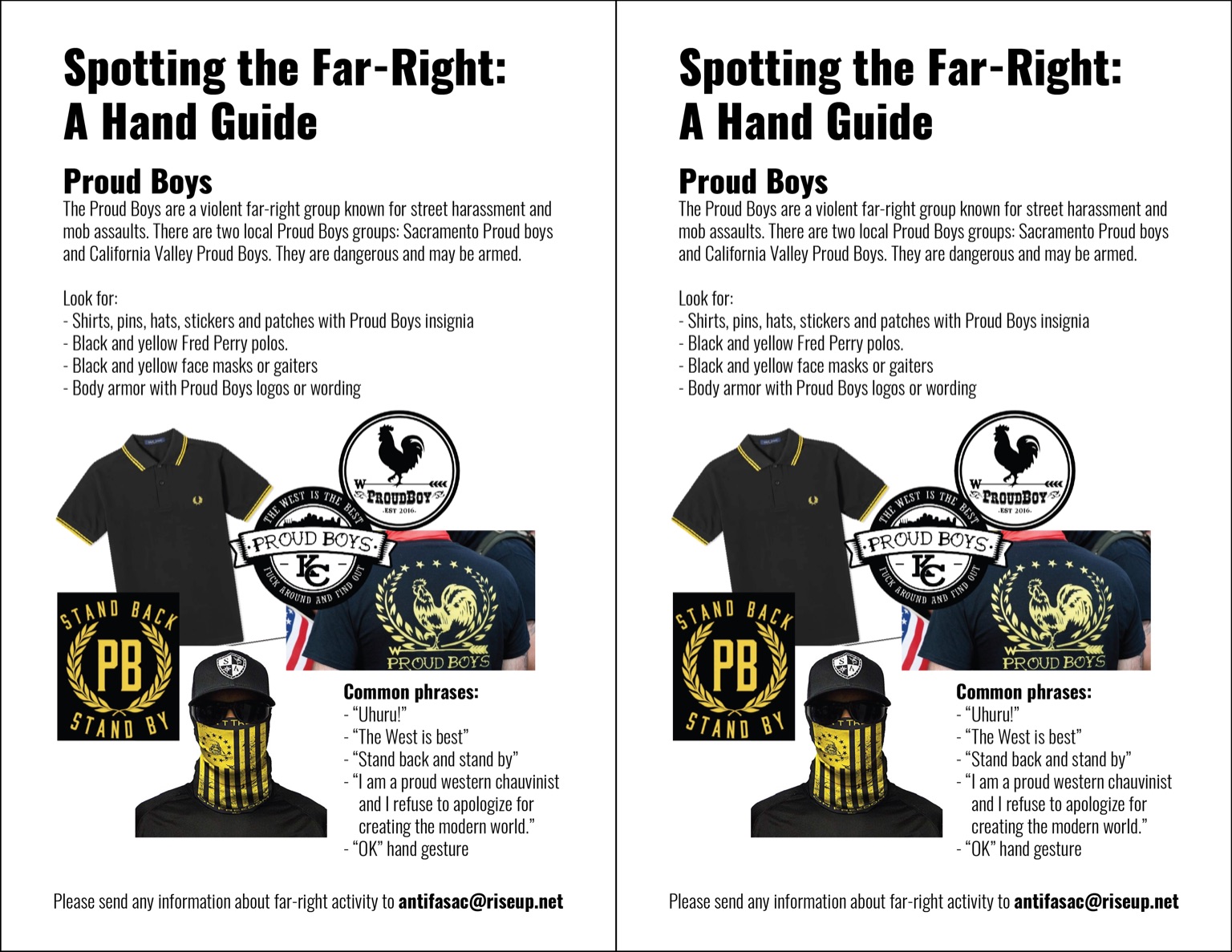 Intended for double sided half sheet printing to then hand out so people in our community are more equipped to spot far-right and neo-fascist factions and to then better prepare themselves,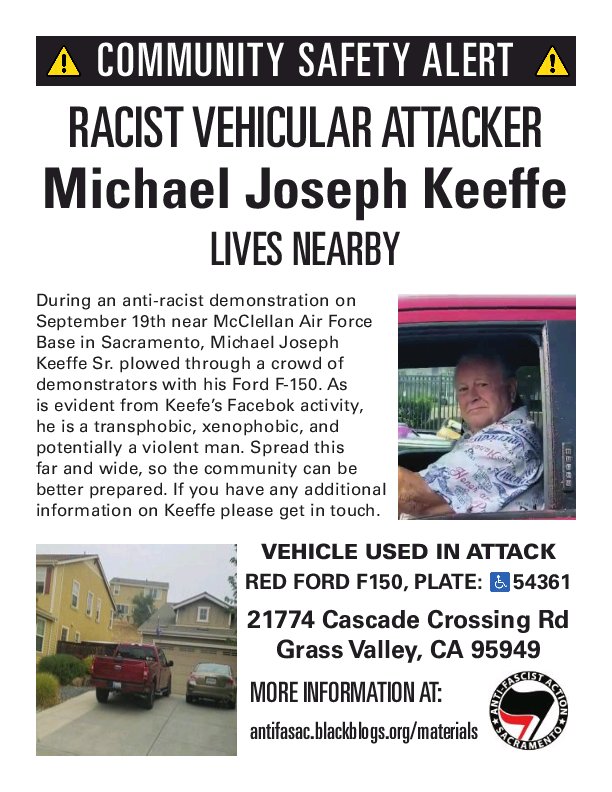 Could be put up all throughout Grass Valley and Nevada City to alert the community about racist vehicular attacker, Michael Joseph Keeffe Sr ! More on Keeffe, here: https://twitter.com/AntifaSac_/status/1315014031820779520
We encourage everyone to put up this poster at your local social center or throughout your city to continue to spread the word and to make sure Hugo Pinell is never forgotten!
For more on political prisoner, Hugo Pinell who was assassinated by white supremacists at Folsom state prison on August 12th, 2015 check out this comprehensive support website that was kept up by the late Kiilu Nyasha (RIP).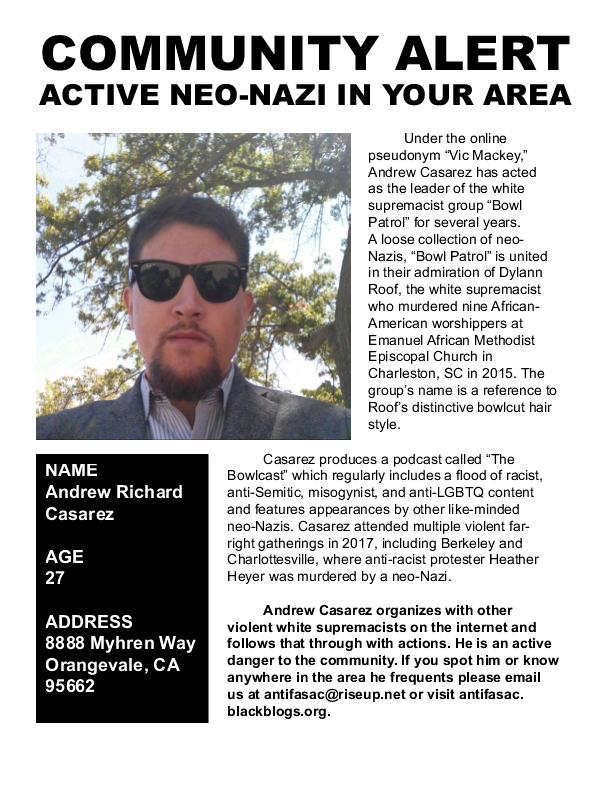 For more information on Andrew Casarez, check out this thorough article on Casarez and the Bowl Patrol – https://accollective.noblogs.org/post/2020/07/07/vic-mackey-of-the-bowl-patrol-identified-as-andrew-casarez-of-orangevale/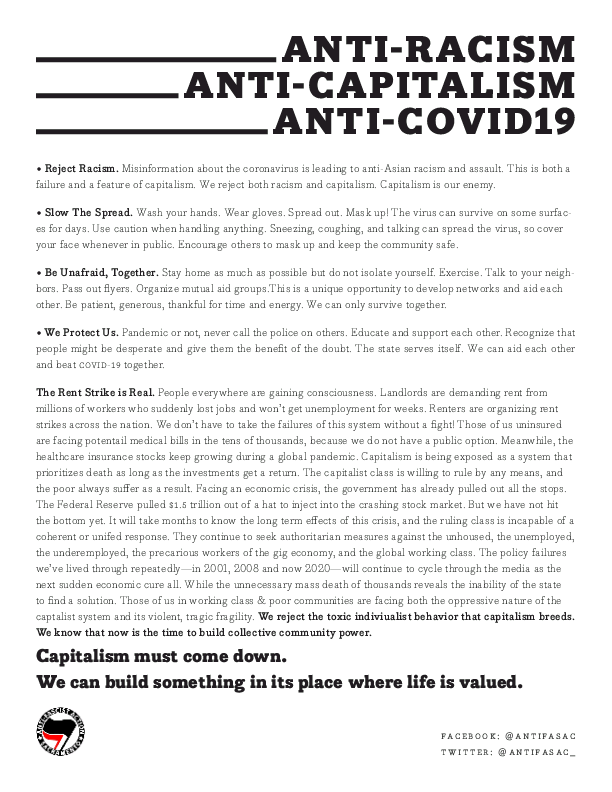 Here is the pdf for the flyer above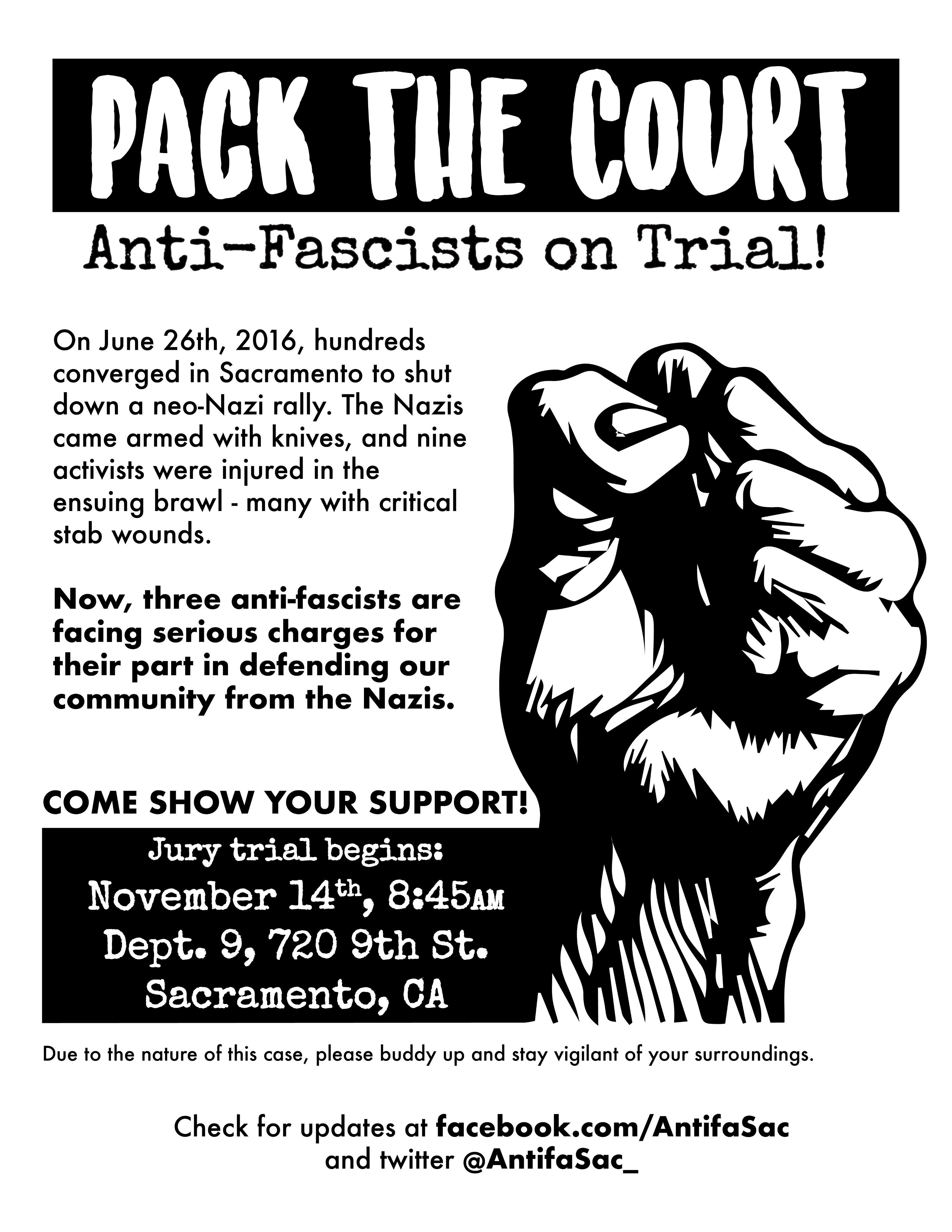 or here is the pdf version
Sticker Designs: