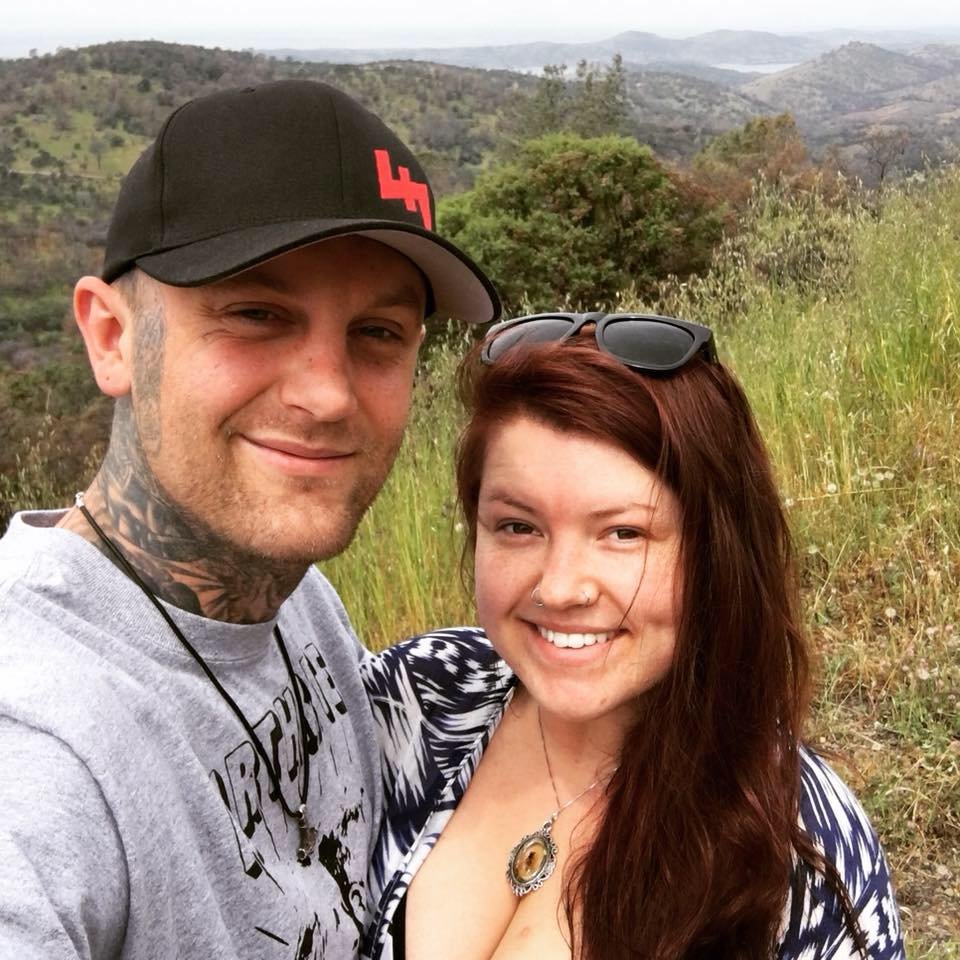 Joshua Wallace lives in the Sonora area of Tuolumne county, California. He works at Sierra Pacific Industries in Sonora, is married to Lindsay Donaldson ( now Lindsay Wallace)and is a full blown member of the Hammerskins, a known white supremacist group with a violent history of racist attacks. This post offers a brief history of Hammerskins, how Wallace is related to the group, who he socializes with, and his doxx information at the end.
Here's what we know.
Established in 1988, The Hammerskins are a white supremacist group that began in Dallas, TX. They emerged from the racist skinhead sub-cultural music scene. They eventually grew to at least six Hammerskins chapters throughout the country, and over time more formed in Canada, Europe, Australia, and New Zealand. In the beginning, their primary focus was the production of white power music, and many white power bands have emerged from the group's membership. The Hammerskins also run a music festival, Hammerfest, throughout the U.S and Europe each year to honor Hammerskin, Joe Rowan. Rowan was lead singer of Nordic Thunder and was killed in 1994 after a white power concert in Racine, Wisconsin. But the real purpose of each chapter and the different concerts that Hammerskins organize and attend is to glorify attacks against marginalized communities and promote the violent threat of white terror.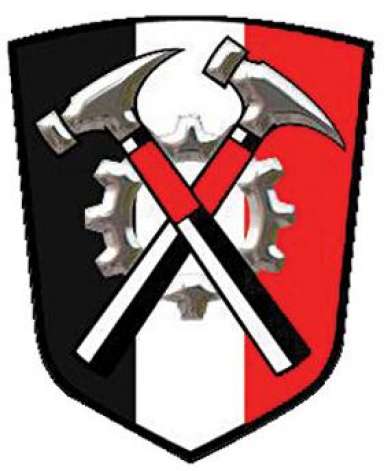 In 1999 during an impromptu spring break gathering of about 150 people in Temecula, CA, a group of Hammerskins sought out a 23 year old black man and proceeded to taunt him and then attack him with bottles and knives. There are numerous examples over the years since their inception that bring light to the fact that when members of the Hammerskins get together the likelihood of racist violence taking place is high. More recently in December of 2018 members of the Hammerskins and affiliates from all over the country were on their way to Whidbey island to memorialize a dead white supremacist by the name of Robert Jay Matthews. Matthews, who is the founder of a short lived but influential white supremacist group The Order, died in a shoot out with the FBI on Whidbey island in 1984. On their way to the island in Lynwood, WA they stopped at a bar and eventually 14 white supremacists were seen beating up a black man who was the DJ that night.
Probably the most famous example of a member of the Hammerskins engaging in racist violence was Wade Michael Page a member of the Northern Hammerskins. In 2012, Page waged an attack on a Sikh temple in Oak Creek, Wisconsin killing 6 and injuring an additional 3 worshipers that day. It wasn't until 2011 that he became an official member of the Hammerskins, but his relationship to the group dates back to 2000 when he met Hammerskins from all over at Hammerfest in Gorgia. By 2010, he was playing in some of the most famous white power bands of that time. He was 40 the day he attacked that Sikh temple in August of 2012.
Hammerskins can also be stopped before they attack when we know who they are, what their targets may be and where they may be gathering in a particular region. In April of 2018, our comrades up in Rose City Antifa put out an excellent piece after getting a hold of these "hunting guides" specific to the northwest that the Hammerskins had posted in a web forum. The list of targets included places in most of the northwestern states including synagogues, mosques, and refugee centers.
Enter Joshua Wallace.
Hammerskins pose a direct threat to people wherever they gather. And Joshua Wallace is no exception. In the spring of 2018, Joshua Wallace was promoting a large white power concert that was sponsored by Hammerskins and Crew 38. Crew 38 is another white supremacist group that serves as a feeder group to Hammerskins around the country. The concert itself was organized by the "West Coast Firm," a group consisting of members of the Hammerskins and their supporters on the west coast. For years they have been working together to organize concerts which serve as recruitment efforts and networking events for white supremacists, as seen in the image below, posted by Joshua Wallace on Instagram.
The following screen shot is from Joshua Wallace's Instagram profile when he was promoting the West Coast Firm concert. In the post below, he uses the acronym "POTN" which stands for "Prospect Of The Nation." That is, at the time he made the post he was a prospect of the Hammerskin Nation, and not yet a full fledged member. He also uses the number combination "838." In skinhead numerology, as H is the eighth letter of the alphabet and C is the third, 838 refers to HCH as in "hail the crossed hammers," a slogan regularly used by Crew 38 and Hammerskins.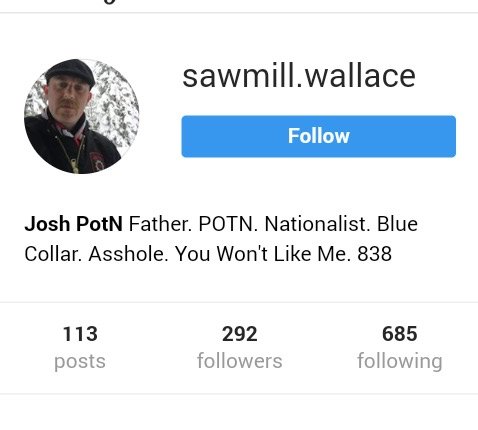 The most recent screenshot of Wallace's Instagram profile below shows him using the acronym "WHS" which stands for Western Hammerskins. They are one of the six chapters of the Hammerskin Nation active in the U.S. This means then that in the last year Wallace has graduated from being a prospect to a full blown a member of the Western Hammerskins.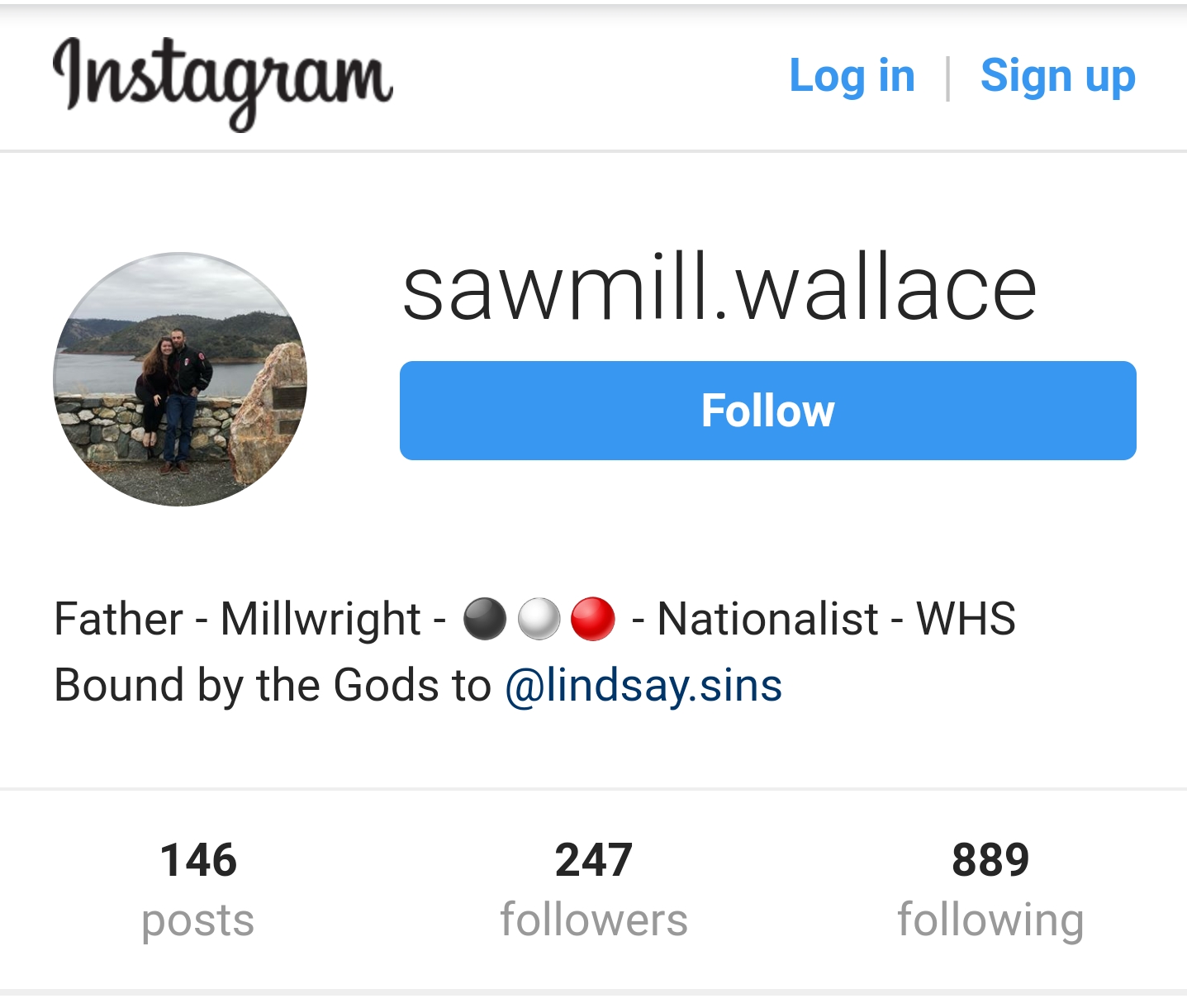 Meet his wife.
Not only has Joshua Wallace become a member of the Hammerskin Nation within the last year, he also got married to Lindsay Donaldson, a neo-Nazi in her own right. Lindsay has lived in the Sacramento area, specifically Orangevale, and more recently she resided in Milpines, south of Sonora, before settling with Wallace in the Sonora area.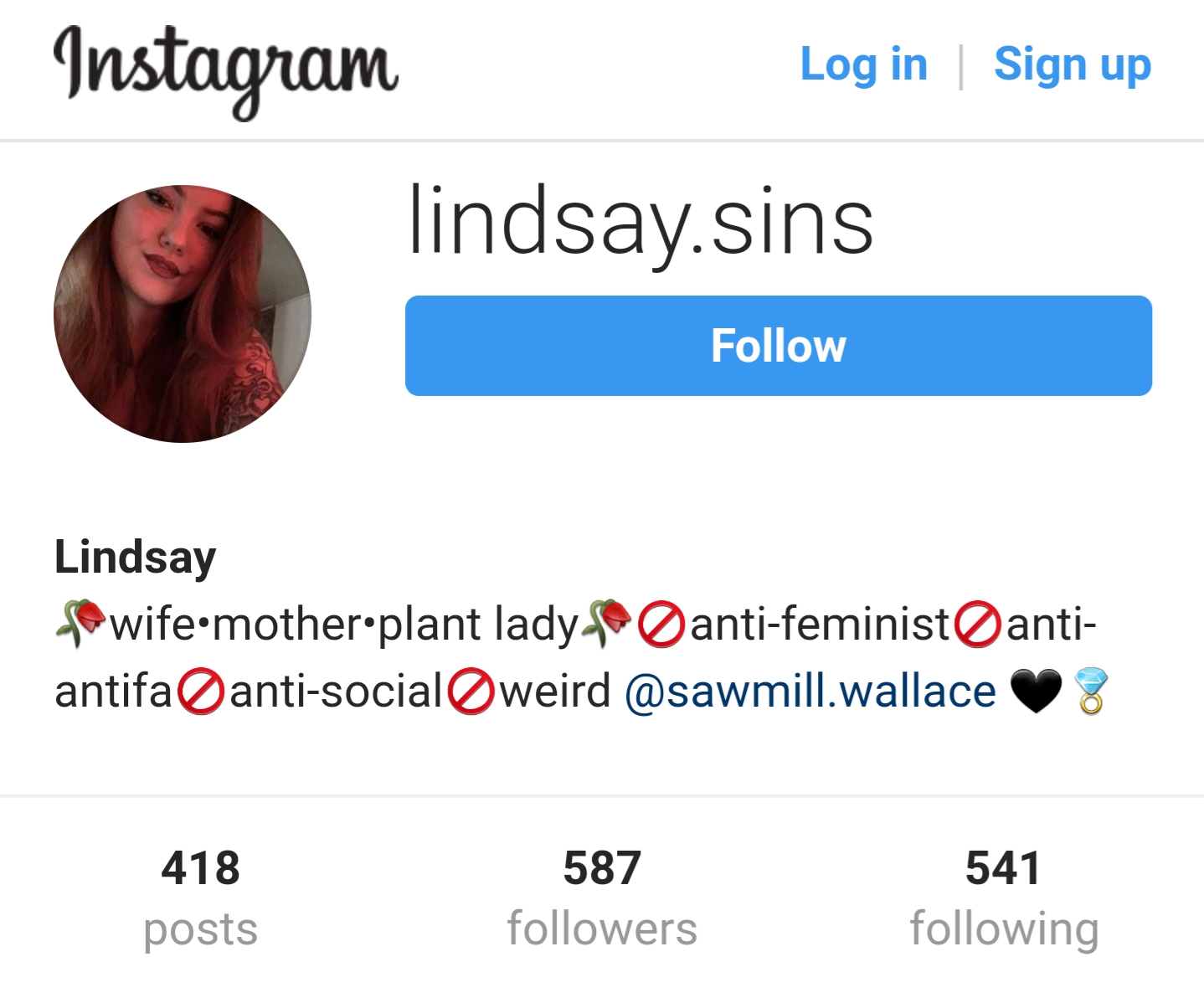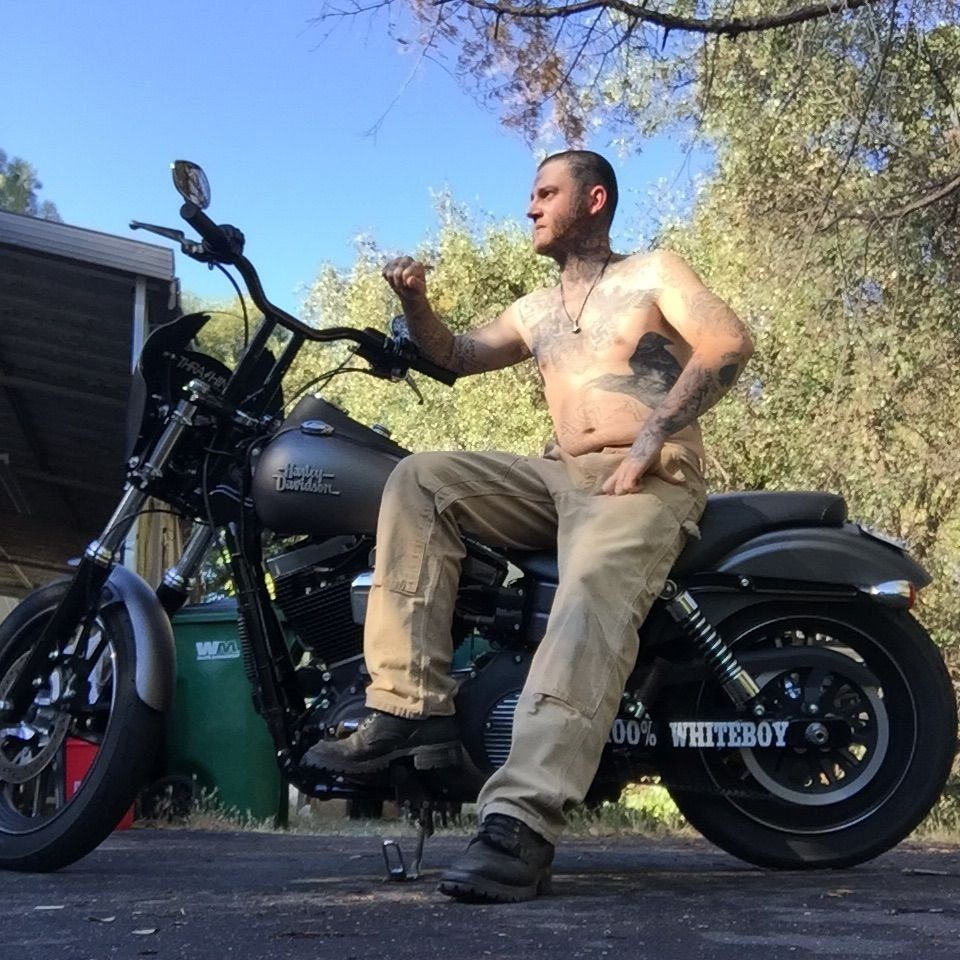 About his friend Erik Petersen.
Since Joshua Wallace has been on Instagram for a while now and considering he is a motorcycle enthusiast, it is not surprising that he found Nordic Metal Works on Instagram. Erik Petersen, the owner of Nordic Metal Works which is based in Yuba City, CA, uses his business to spread a neo-Nazi ideology through his retail wares. Wallace has shown interest in pictures of Nordic Metal Works stickers with the image of the valknut, a popular Germanic pagan symbol used by white nationalists, as seen in the first image of this post. Erik Petersen also makes it a point to put the SS lighting bolts on a lot of his branding and store related items. Neo-Nazis take a lot of pride in displaying the lightning bolts on their bodies through tattoos or in what they wear, not to mention the motorcycles they ride. The lightning bolts symbolize the SS which stands for Schutzstaffel, one of the paramilitary groups of the Nazi Party under Adolf Hitler. They are not innocent. They know what they are displaying.
And his sister Nicole Wallace.
Joshua Wallace's sister, Nicole Wallace, lives in Sonora and is an active member of the white power scene in northern California. Like Joshua, she's connected with neo-Nazis here in the Sacramento area. In the image below, she poses with Jason Judd of the Golden State Skinheads to her right, and Adam Hart of the Sacto Skins, one of the oldest white supremacist groups in the Sacramento area. To Hart's right is Joshua O'Leary, a neo-Nazi from Colorado who has been a resident of the Sacramento area for some period of time during the last three years. This picture is from Jason Judd's Orangevale address, and it was taken within the last two years.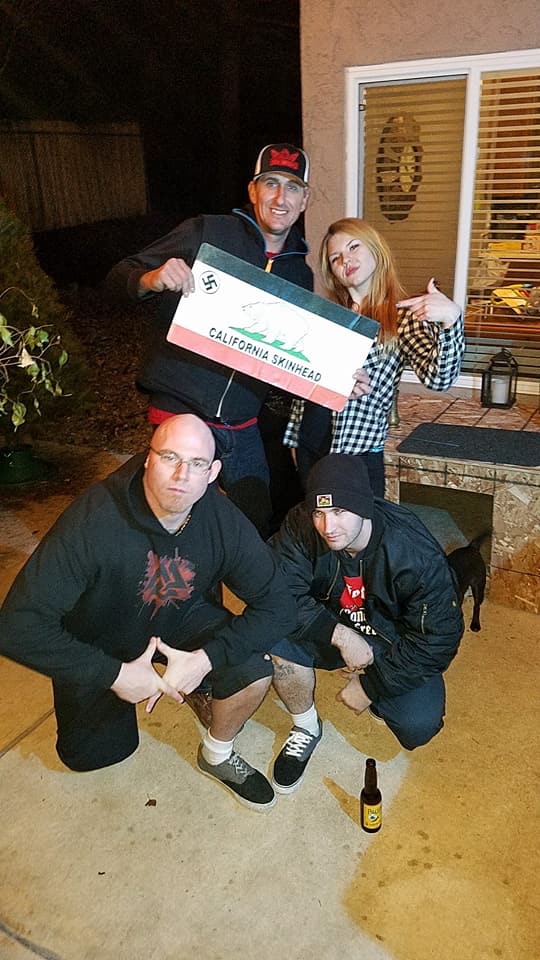 These are dangerous individuals and these relationships pose a threat to our community. We know this because of the events of June 26th, 2016, when 400 anti racist protesters prevented neo-Nazis of the Golden State Skinheads (GSS) and the now defunct Traditionalist Worker Party (TWP) from having a rally at the state capitol in Sacramento. Multiple melees ensued after the protesters successfully denied the neo-Nazis a platform that day and eventually 9 anti racist protesters were hospitalized: six due to stab wounds and 3 due to blunt force trauma. In the photo below, Jason Judd is wearing the green and yellow Border Patrol hat. He is holding an anti-racist protester while Sean Wurzburg stabs her in the abdomen. Joshua O'Leary is clearly in the forefront, fists raised, heading into the fray. Since these events, Nicole Wallace has clearly connected with both Judd and O'Leary as confirmed in the previous photo.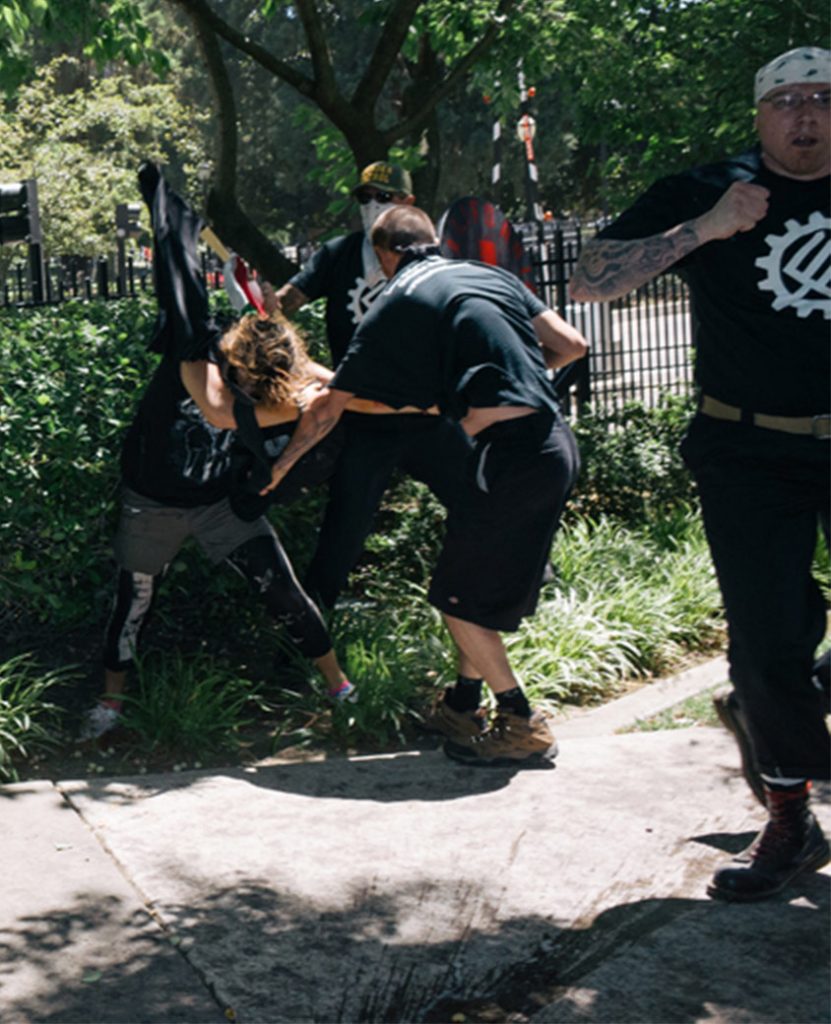 Nicole and Joshua have been affiliated with Sacramento white supremacists since the fall of 2015, possibly earlier. In the image below, a bearded Joshua Wallace stands behind Nicole Wallace who are both to Jason Judd's right. Judd refers to them as his crew mates and uses the hash tag #hailcas, which stands for Hail California Skinheads. Interestingly enough, the term skinhead was stolen from anti-racist skins back in the early 1980s who still proudly call themselves skins with the anti-racist preface of course.
Stay vigilant Sonora.
Now that Joshua Wallace is no longer a prospect of the Hammerskin nation, the longest running white supremacist group in the country but is in fact a full fledged member of the Western Hammerkins chapter, he is a safety concern for the residents of Sonora and beyond. For those readers in his proximity, please develop a plan and stay alert for his presence and actions. It is troubling at best that he is reaching out and becoming more connected within the white power movement in California and elsewhere. At the bottom of this post, we've posted his current address and his current employer.
If you or anyone you know lives near Jamestown or where he works in Sonora, spread the word that a neo-Nazi, a member of the Hammerskins is living in your community and that people should be vigilant. Due to what neo-Nazis represent, stand for and spread, they should not be welcome anywhere–neither at home nor at work. At the very least, we should all know where active neo-Nazis live, work, shop, and socialize, so we can all proceed and prepare accordingly for the safety of our communities.
Conclusion.
Here is all the relevant information regarding Sierra Pacific Industries, the sawmill where Joshua Wallace is employed. If you or anyone you know work at any of the other businesses on or around Camage Ave. in Sonora, you may have coworkers who would appreciate this information as well.
SPI is located at 14980 Camage Ave, Sonora, California, 95370. Their business hours are Monday to Friday from 9am to 5pm, and their phone number is *67 (209) 532-7141. (Use *67 to keep your phone number private!)
Sierra Pacific Industries (SPI) is a large company based out of Redding, CA with many locations, and the Sonora location is only one of them. If you feel so inclined to get in touch with SPI to let them know they should not be employing a neo-Nazi there are other options and ways to get creative outside of contacting the Sonora site. Here is the company's website, and here is the link to where you can review specifically the Sonora location on Indeed, and also at Yellow Pages.
Pro Tip: When calling the Sonora location or if you decide to get creative and call any of the other ones please be sure to dial *67 before proceeding to dial the number. This way you've protected yourself and your number will not show up when you call.
The Doxx
Joshua Spencer Wallace aka Josh VanBuren born May 18,1990
Employed by – Sierra Pacific Industries 14980 Camage Ave Sonora 95370
Vehicle – green Jeep with a missing rear bumper – CA license plate 7TOF099
Residence – TBD
Social media – instagram.com/sawmill.wallace and facebook.com/josh.wallace.16503
Lindsay Suzanne Wallace ( or Lindsay Suzanne Donaldson) – born June 1, 1993
Vehicle – white 2007 Chevy Tahoe, CA license plate 8MMC009
Residence – TBD
Social media – instagram.com/lindsay.sins
Nicole Wallace – 20697 Lower Hillview Dr, Sonora, CA 95370
Social media – Nicole's FB handle used to be – ilse.skinner and her user-name was Hannabelle Lecter
If you have any additional information on Joshua or Nicole Wallace, Lindsay Donaldson or anyone they are affiliated with, please get in touch with us – antifasac at riseup dot net