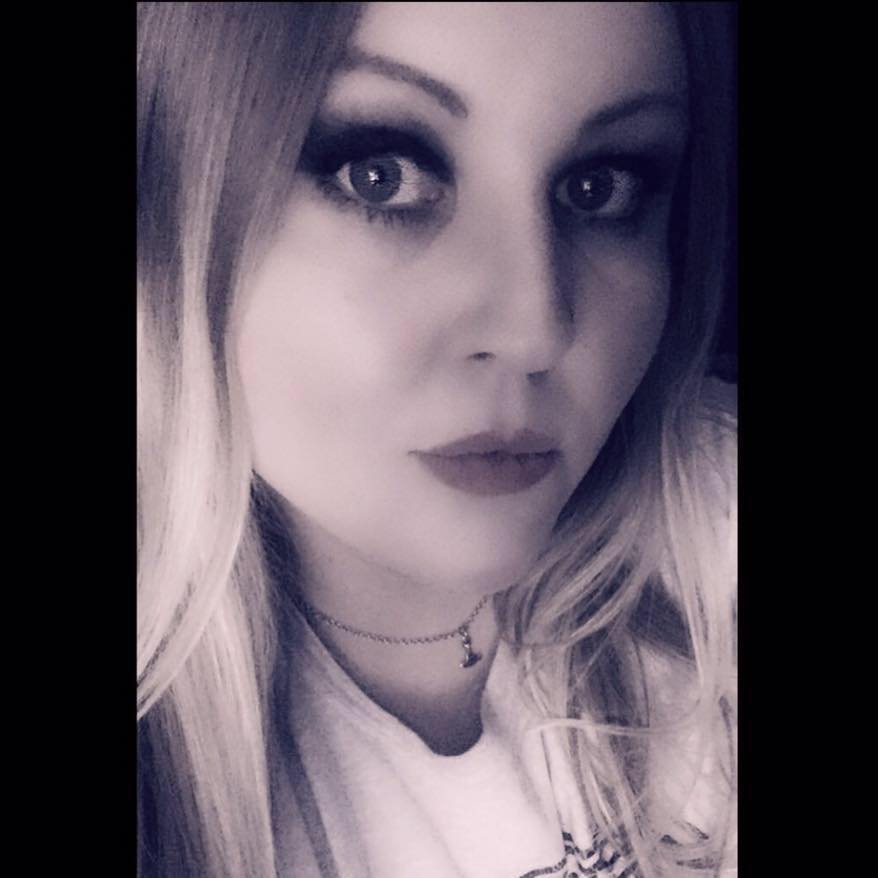 Tessa Elizabeth Hamilton is a white supremacist living in Elk Grove. She is connected to many neo-Nazis in Sacramento and across the nation, including members of the Golden State Skinheads (GSS). She is also the most active individual supporting William Planer, a GSS member who is currently imprisoned in Sacramento County Jail. Planer was recently charged with assault with a deadly weapon after attacking an anti-racist protester with a stick at the neo-Nazi rally that was shut down in 2016 at the California State Capitol. The rally was organized as a collaborative effort between GSS and the now-defunct Traditionalist Worker Party (TWP) and as a member of both groups, Planer himself played a key role in their alliance. He is currently serving 4 years for the charges, and as he is eligible for half time, he will likely be released from jail in early July.
Tessa Hamilton has visited Planer at Sac County Jail and has served as a sort of treasurer for his support efforts, setting up a PayPal account to raise money for him among white nationalists across the globe. She also has a relationship with Justina Ashton Thatcher, Planer's partner.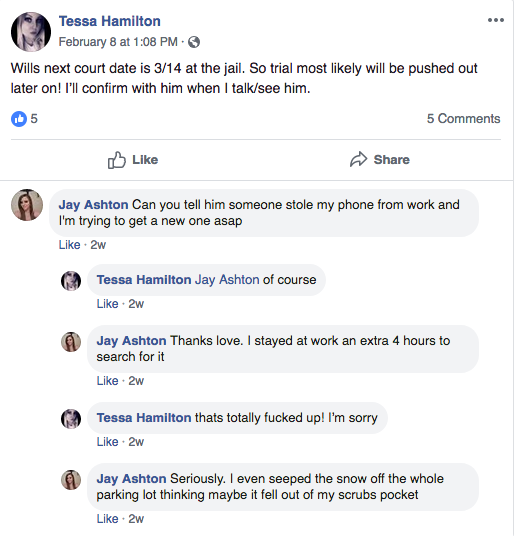 Hamilton's fundraising efforts have also included pushing support T-shirts for Planer that feature the sonnenrad or "black sun," a white supremacist symbol frequently sported by neo-Nazis like Planer's fellow GSS member Jason Judd. In a fantastic article that our friends in NoCARA published on December 7th last year that in part exposes Jonathan Court as a GSS member living in Castro Valley they also exposed the fact that at the time he was the one collecting funds for William Planer at paypal.me/freedomforwill, While that link appears to still belong to an active account it is no longer the link that is circulated when locally or nationally racists are pushing for support for William Planer. Instead it's the link that belongs to Tessa Hamilton that is now the one included in all the support material.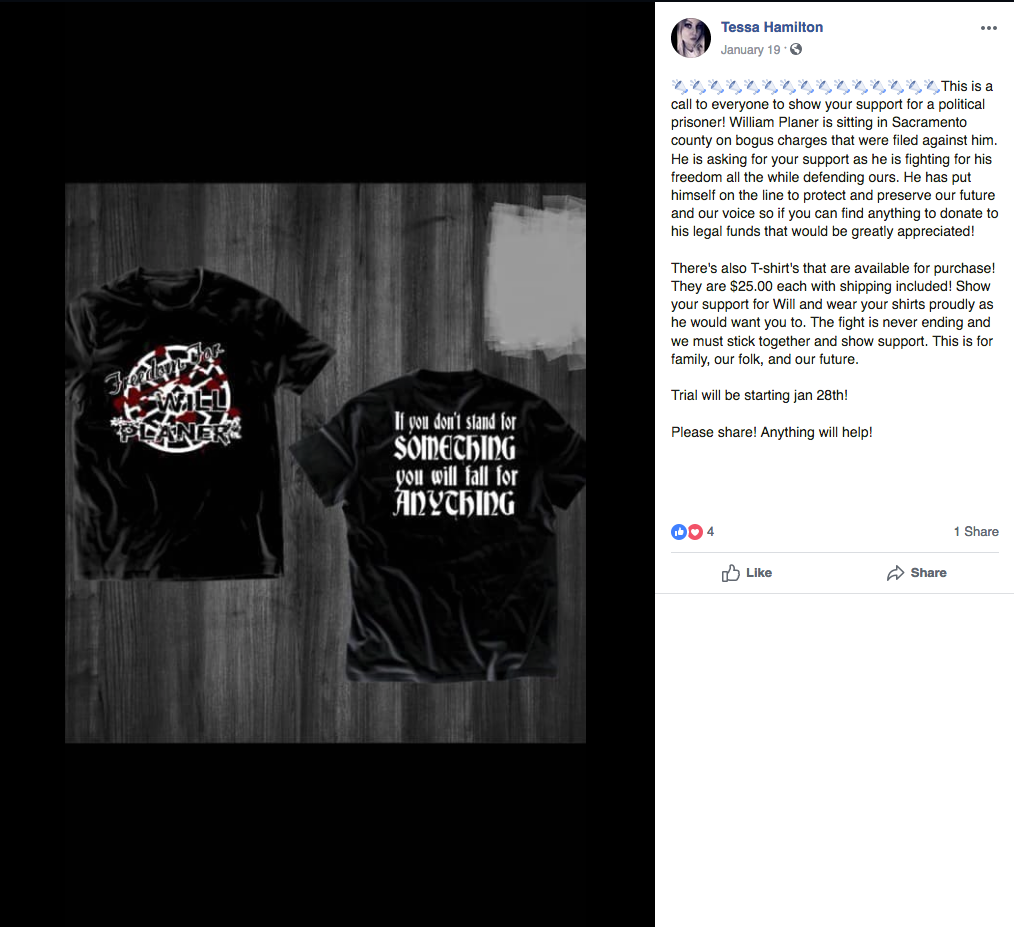 Hamilton has also been working in tandem with a number of prominent white supremacists in her efforts to support William Planer. Among them is David "Matt" Parrott of Indiana, a neo-Nazi who co-founded TWP and served at its official spokesman until its dissolution in March of 2018.
Hamilton is not only a supporter of William Planer- she is also a proud neo-Nazi herself. She fluctuates between being open and guarded about her abhorrent, white supremacist views on social media. She often posts publicly on Facebook, only to delete or privatize the material shortly after. Recently she shared an article that linked the white supremacist cause to an arson that burned down the administrative offices and archives of the Highlander Center, a social justice center with ties to the labor and civil rights movements. The fascist symbol that was found on the property was originally made famous by the Iron Guard, a Romanian fascist group which TWP was inspired by.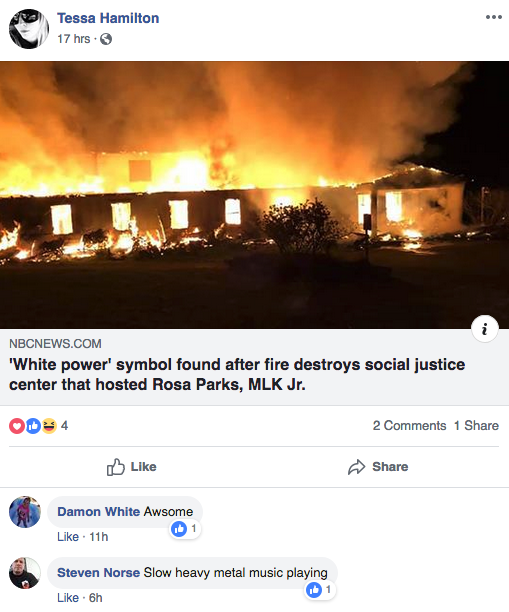 When Tessa isn't celebrating the destruction of of an important social justice center in eastern Tennessee, she's apparently supporting other GSS members when they need a little help selling their pickup truck. Sam Ford is Jason Judd's new Facebook name. He deleted his old one and created a new one after the article we published last year exposing him lead to him losing his job..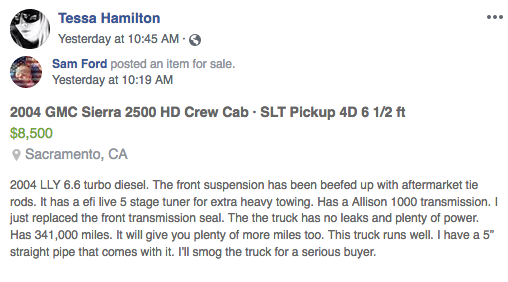 The Doxx
Full name: Tessa Elizabeth Hamilton
DOB: 1/18/1989
Facebook: @twistedtessa54
Vehicle: white Chevy Tahoe with a neo-Nazi valknot symbol on the back window
License plate number: 8CHS047
Current address: 9960 Parklake Way, Elk Grove, CA
If you have any information about Tessa Hamilton or other white supremacists in the Sacramento area, contact us at antifasac ( at ) riseup.net